Podcast: Play in new window | Download
Two-time Olympian Anna Rice shares how sport and her own experience growing up as an athlete has taught her important life skills off the court and as a parent.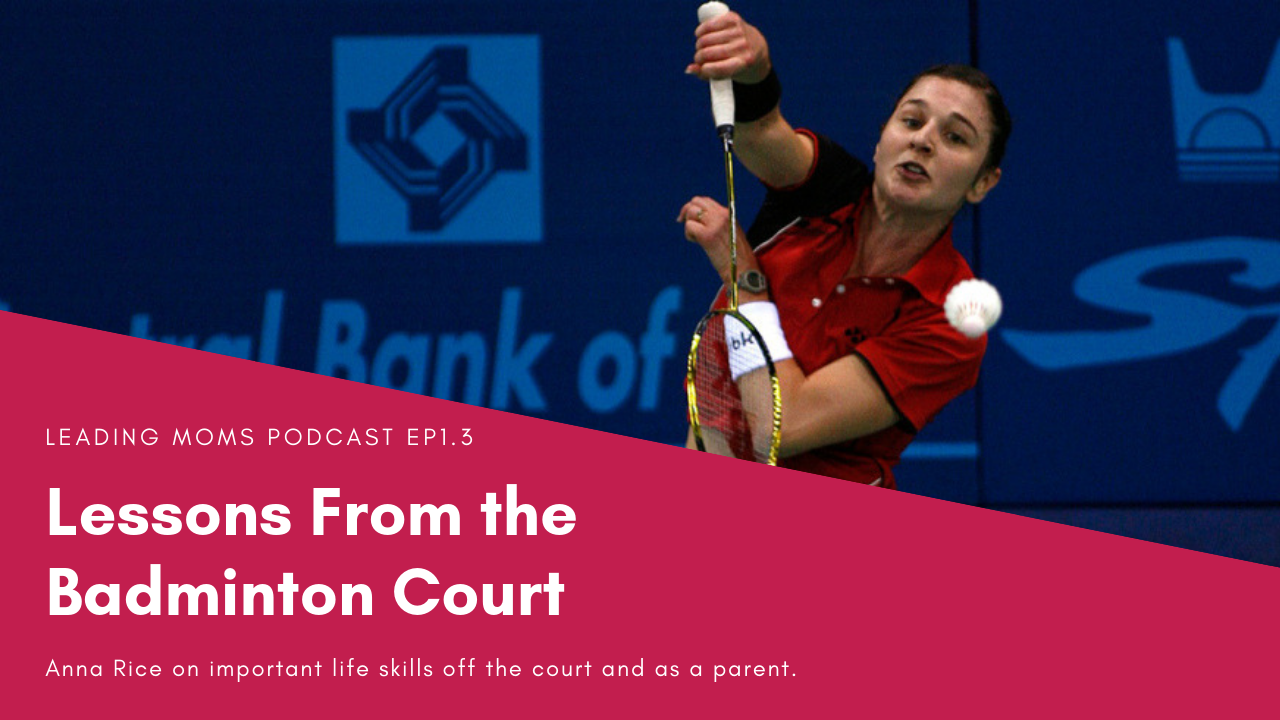 Leading Moms Podcast Transcript: Anna Rice: Parenting Lessons From the Badminton Court
It's great to be here. I actually brought my water bottle with me. I was going to leave that in the green room but then Amber was like, "Is that really your water bottle?" It is. I've gone from fancy, sponsored water bottle to "This is the most convenient one that fits to my purse."
And I chose to keep it casual today with my dress. I hope that's okay. I've gone from athlete to student to coach and now a mom. So any outfit requiring a bra and requiring more than a sports bra is pretty much black type formal wear for me. Plus I wanted to wear this sweatshirt.
As Christine said, I am an Athlete Ambassador for Right To Play, and since the theme is play I thought that was fitting. Has anyone in the audience heard of Right To Play? Oh, awesome.
So for those of you who haven't: Right To Play is a humanitarian organization that uses sport and play as a tool to teach life skills and help messages to kids in disadvantaged communities all around the world including here in Canada. So I've been an Athlete Ambassador for Right To Play since 2004, which basically means that I speak about the organization whenever I can to schools and to clubs and to gatherings like this. But I'm actually not going to talk too much about Right To Play today. But I do want to mention it because it's had a big influence on the message I want to share with you – especially three months that I spent in Uganda working with the organization.
What I came to tell you today is how my experience as an athlete and the lessons I learned through sport and play have shaped my approach to parenting.
Now full disclosure, I'm less than two years into this whole motherhood gig. And my son, Robby, will be a year and a half in a couple of weeks which makes me a total rookie by sports standards. So I'm fully aware that my philosophies and methods towards parenting will change and evolve as I learn. And it goes without saying that I have a ton of learning to do. I mean, we haven't even hit potty training yet.
But I'm excited for the learning. In fact one of the most amazing things for me about becoming a mom has been the learning curve, which mirrors my experience as an athlete.
The cheesy but nonetheless true quote that I have on the homepage of my website says, "The most important things I've learned in life I've learned on the badminton court." And if I had to pick one lesson I've found most useful so far as a parent it would be this: Every situation in life no matter how major or trivial is nothing more than an opportunity to learn and to extend love. I know it sounds very Eckhart Tolle of Power of Now. But it is, except it has really had a big impact on my life and helped me maximize my experience as an athlete and now as a parent. So in other words what matters is the process of what I'm doing, not the outcome. Focusing on the process allows me to learn from the experience and truly enjoy it.
I'd like to share with you a story from my time as an athlete that really helped me learn this lesson. The story actually takes place over the course of many years. From the time I was around 8 years old culminating 20 years later in the months leading up to the Beijing Olympics.
The star of my story is my dad who's recently moved to Germany and has no way to defend himself, so I'm totally safe with divulging these stories.
My dad was one of those parents that got very uptight and nervous whenever my sisters and I were performing or competing. I have memories all the way back to my earliest tournaments and I can still remember the look on my dad's face peering in from the hallway now and again through the little glass.
Why was he out in the hallway? Because he was too nervous to be sitting inside the gym to watch. He was too nervous to watch me, a little eight-year-old, play badminton against another cute little eight-year-old.
It sounds ridiculous to us but think about the message that sends to a young person: The result of this badminton game, or the soccer game, or this piano exam is so important that my mom or dad is getting that worked up about it. Whether consciously or not, a child will make up in their mind that the outcome of this event is really freaking important – so they better perform well or Mommy and Daddy are going to be upset.
So my dad staying inside here and watching me play only gets worse as I get older and more competitive. I start to interpret my dad's not watching as a lack of interest in me and what I'm doing, which for a teenage girl can be pretty heartbreaking.
A few more years go by. I started playing the Junior National Circuit and competing in the Junior National Championships. My dad goes so far as to fly across the country to places like Montreal and Winnipeg without telling me, and then proceeds to stay in a hotel for the weekend calling into the club to get my results each day.  And he'd show up briefly after the medal ceremony just to let me know he was there. To him, this is the best way he could show his support. To me, I felt sad that he didn't get to share the full experience.
Fast forward another 10 years: the Olympics. It's 2008, the months leading up to what would be the highlight of my sporting career, the Beijing Olympics. My entire family has decided to make the trip over to China and cheer me on including my dad. I ask my dad if he's actually going to sit in the stands and watch me play this time. He grumbles a reply and says he may just stay in the hotel and watch on TV.
No. Finally, I was going to confront this issue head on. After years of Sport Psychology sessions and countless conversations with my coach, I was ready.
So I sat my dad down and it all came pouring out. I explained how much pressure I felt over the years and that he didn't have to be nervous because I had made a fundamental change.
I'd realized that the outcome of the match isn't important.
No matter what happens in Beijing, I will enjoy the experience and learn from it. I shared with them how much more joy I felt playing now that I didn't need to win. And how the totally zen thing about all this was that by focusing –  by taking my focus away from winning I freed up all this energy that actually helped me win more often.
When I finally stopped talking I looked up and saw my Dad had tears in his eyes.
"The reason I get so nervous," he said, "is not because I want you to win for me. It's because I know how much badminton means for you and how much you work at it. All these years I only ever wanted you to win for you."
So my dad came to Beijing and for the very first time in over 20 years, he sat in the stands the entire length of all my matches. I can't express to you how special it was for me to be on that court looking up and seeing my dad in the stands cheering and smiling. I'm sure I'll treasure that moment more than if I'd won the gold medal. I still got the motherhood hormonal thing going on.
So now as a mom, my priority above all else is to help my son and myself understand that each and every situation is about enjoying the process and extending love while doing so.
RW Emerson said it best, "Life is a journey, not a destination."
Thank you.
About Anna Rice
Anna Rice is a two-time Olympian and five-time Canadian National Badminton Champion. At the Beijing Olympics, Anna became the first female singles player from a Pan American country to achieve a top-10 finish. Born and raised in North Vancouver, Anna completed a B.A. from UBC before moving to Denmark where she lived and played professional badminton for nine years. While in Europe, Anna completed a Masters in Communication for Development, with a focus on Sport & Development.
Off the court, Anna has been an active advocate for women's rights in sport. She successfully led a campaign to establish an equal prize money pay distribution for the international professional badminton circuit. Anna also helped defeat a proposed clothing guideline that would force all female players to wear skirts or dresses for international competition.
About the Leading Moms Podcast
Welcome to the Leading Moms podcast, where every mom has a story. Launched in 2012, Leading Moms started as an annual one-day event in Vancouver, BC, with an aim for each mom to recognize her significance and belonging, gain a sense of mastery and be impactful in her business, community – or the simple everyday of her family. Now these thought-provoking, inspirational talks are available on this podcast. Join your host Christine Pilkington, entrepreneur, publisher and TV mom expert, every other week as she shares the best talks from the past six years and more.