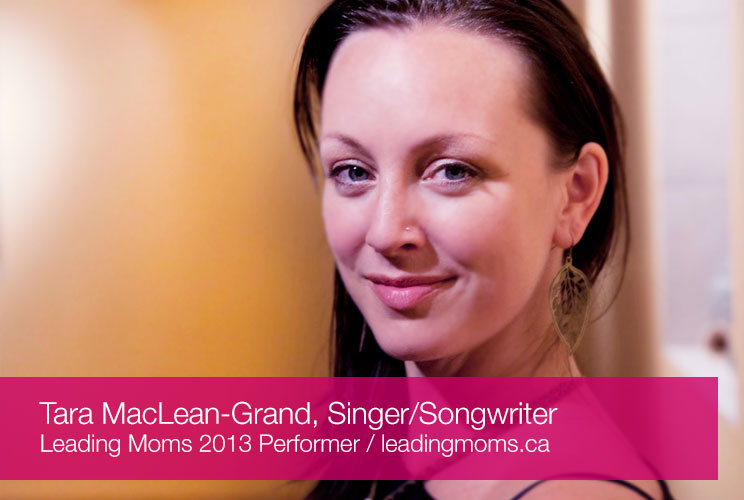 Last year, Tara's video presentation of Where Am I touched the hearts of our audience. We are thrilled that Tara will be performing her song live at Leading Moms 2013.
Tara MacLean-Grand is a singer/songwriter and mother of three amazing girls.  She is also a doula, a prenatal consultant for Moksha Yoga, an ordained minister and devoted wife.  Tara has toured the world singing for the last 15 years but now lives on a stunning Salt Spring Island farm where she is immersed in being a mother and writer.  She is currently trying to figure out what to do with 600 pounds of pears, and trying to hide her lip gloss from her 10-year-old. Find out more about Tara at www.theripple.ca.
You Might also like
Natacha V. Beim is a renowned writer, speaker and educational leader. Born in Uruguay and raised in Montréal, she has traveled extensively and studied several countries' educational approaches. She now resides in Vancouver, Canada, with her husband and two sons. She is the Founder and CEO of Core Education & Fine Arts, and divides her time between research, writing and speaking engagements.

Natacha has many accomplishments in her name: She wrote a poetry book at the age of sixteen, which got published and was sold out; she speaks three languages fluently and understands two more; and she graduated two years early by doubling her course loads. She also excelled in many areas, including as a teacher, ballerina, model, journalist, painter, writer, actress (theatre) and runner. Although she devotes some of her time to these interests, her passion, and most of her time, is in the CEFA Early Learning schools that she created, which continue to expand throughout North America.

About CEFA

Natacha established Core Education & Fine Arts (CEFA), Canada's first junior kindergarten school, in 1998. Our full day early learning program is designed for infants and children up to five years old. The enriched curriculum features a unique partnership of core subjects, such as Reading and Math, with fine arts, including Drama and Yoga, providing children with the freedom to learn and grow through play.

Our program has a reputation of highly developing a child's intellect and delivering the finest start in education, arts, and the humanities. The full day early learning and junior kindergarten programs at CEFA are far beyond the typical child care programs found throughout Canada. Each of our Teachers are trained Early Childhood Educators who, in addition to their qualifications, are trained and certified by CEFA Educational Systems to become specialized junior kindergarten Teachers.

---

Peekaboo Beans Founder and Director of Play, Traci Costa worked in the corporate world of investment banking field for over 10 years, with much focus on work and little focus on play.

In 2003 after several years of infertility, she was blessed with her first daughter. Her world suddenly became all about play!

Dreaming of dressing a little girl for years, Traci realized a lack in the market for good quality clothing that focused on play and empowering children with the independence to dress themselves fuss-free, without sacrificing style.

In 2006, Traci founded Peekaboo Beans, Playwear For Kids On the Grow, with a mission to provide ingredients for a playful life. Traci is fiercely passionate about the benefits of unstructured free play in a world over scheduling and the growing concern of the endless technological distractions. Peekaboo Beans is now sold through Independent Play Stylists across Canada, "On-Vine" through the e-commerce site www.peekaboobean.com and through select retailers across Canada.

Peekaboo Beans is a proud partner of Playground Builders, a non-profit organization that builds playgrounds in war torn countries. Through its "Play it Forward" campaign, a team of Peekaboo Beans Independent Stylists donate monthly contributions from their commission, as well as raising awareness with their VIPB's (Very Important Peekaboo Beaners) to Playground Builders.

Traci was a Top 40 under 40 recipient in 2010 and has been a strong advocate for creating a culture that supports working families and mothers. Traci and her husband Brad were blessed with another little girl in 2008. Together they play a lot!

---

Dr. Shimi Kang is a Harvard-trained physician, Medical Director for Child and Youth Mental Health for Vancouver, and a Clinical Associate Professor at the University of British Columbia. Her first book: The Dolphin Parent – How to Raise Smart, Happy, Successful Kids without Turning into a Tiger (Penguin-Randomhouse) is coming out in January 2014. Dr. Kang's lives in Vancouver with her husband and three children.