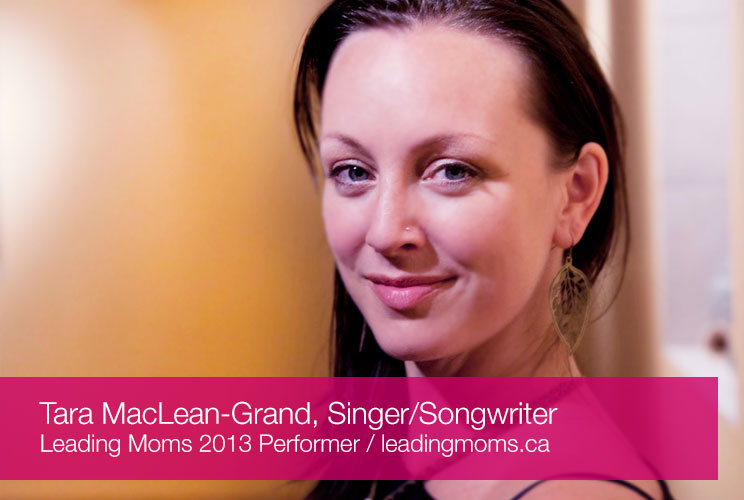 Last year, Tara's video presentation of Where Am I touched the hearts of our audience. We are thrilled that Tara will be performing her song live at Leading Moms 2013.
Tara MacLean-Grand is a singer/songwriter and mother of three amazing girls.  She is also a doula, a prenatal consultant for Moksha Yoga, an ordained minister and devoted wife.  Tara has toured the world singing for the last 15 years but now lives on a stunning Salt Spring Island farm where she is immersed in being a mother and writer.  She is currently trying to figure out what to do with 600 pounds of pears, and trying to hide her lip gloss from her 10-year-old. Find out more about Tara at www.theripple.ca.
You Might also like
---

Anna Rice is a two-time Olympian and five-time Canadian National Badminton Champion. At the Beijing Olympics, Anna became the first female singles player from a Pan American country to achieve a top-10 finish.

Born and raised in North Vancouver, Anna completed a B.A. from UBC before moving to Denmark where she lived and played professional badminton for nine years. While in Europe, Anna completed a Masters in Communication for Development, with a focus on Sport & Development.

Off the court, Anna has been an active advocate for women's rights in sport. In 2006, she successfully led a campaign to establish an equal prize money pay distribution for the international professional badminton circuit. In 2011, Anna helped defeat a proposed clothing guideline that would force all female players to wear skirts or dresses for international competition.

Anna is passionate about "play" of any kind and has been an Athlete Ambassador for the humanitarian organization Right To Play since 2004. In 2009, Anna spent three months volunteering with Right To Play in Uganda, where, among other things, she taught badminton inside refugee camps.

Anna now lives in East Vancouver with her husband and their one year old son Robby, and is also the Head Coach and Program Director at Badminton Vancouver, a 12-court recreational badminton facility.

---

Peekaboo Beans Founder and Director of Play, Traci Costa worked in the corporate world of investment banking field for over 10 years, with much focus on work and little focus on play.

In 2003 after several years of infertility, she was blessed with her first daughter. Her world suddenly became all about play!

Dreaming of dressing a little girl for years, Traci realized a lack in the market for good quality clothing that focused on play and empowering children with the independence to dress themselves fuss-free, without sacrificing style.

In 2006, Traci founded Peekaboo Beans, Playwear For Kids On the Grow, with a mission to provide ingredients for a playful life. Traci is fiercely passionate about the benefits of unstructured free play in a world over scheduling and the growing concern of the endless technological distractions. Peekaboo Beans is now sold through Independent Play Stylists across Canada, "On-Vine" through the e-commerce site www.peekaboobean.com and through select retailers across Canada.

Peekaboo Beans is a proud partner of Playground Builders, a non-profit organization that builds playgrounds in war torn countries. Through its "Play it Forward" campaign, a team of Peekaboo Beans Independent Stylists donate monthly contributions from their commission, as well as raising awareness with their VIPB's (Very Important Peekaboo Beaners) to Playground Builders.

Traci was a Top 40 under 40 recipient in 2010 and has been a strong advocate for creating a culture that supports working families and mothers. Traci and her husband Brad were blessed with another little girl in 2008. Together they play a lot!

---

---

Ranked #1 by Profit and Chatelaine Magazines W100 list in 2012, Kelsey has founded and run businesses as diverse as construction and children's toys. As President of Belvedere Place Development, a land development and construction firm, she wasn't afraid to roll up her sleeves and strap on some work boots and get down in the dirt.


Kelsey delivers her talk "Play is the New PhD" at TEDxKelowna.

And as founder of Spark Play, a monthly play subscription service – as much for parents as for their kids – she finds herself back on the ground, and yes, sometimes playing with dirt; encouraging growth and development through creative play.

This formerly wayward student, born of generations of true grit and determination, triumphed when she graduated with her MBA from the highly regarded Ivey School of Business. She credits that same grit and determination for helping her overcome a devastating cancer prognosis last year – a cancer she has since overcome. In her work she balances venom and virtue, book and street smarts, while always holding that imagination and play are powers greater than knowledge.

In addition to her ongoing ventures, Kelsey provides wing man services to both budding and big business as well as provides comment to various media agencies across the country on the topics on entrepreneurship, modern play and the value of nimble thought in our modern economy. She is Mommy to three children under seven and a still-blissful bride of nine years.