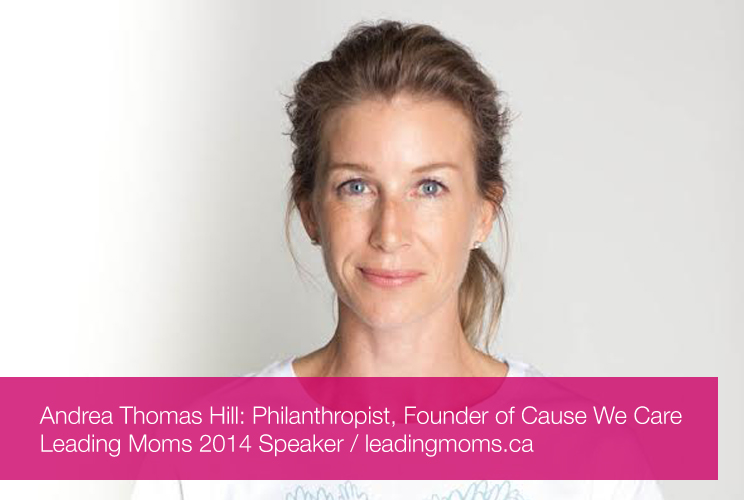 ---
Andrea Thomas Hill is driven by a strong sense of philanthropy and community service. In 1992, she founded Run for the Cure in Canada, and suddenly, families, friend and communities were running together for someone they loved. The event grew to become a vital part of our country's landscape and raised millions of dollars in breast cancer research funds.
In 2007, Andrea's inspiration drove her to support families affected by poverty. She founded Vancouver's Cause We Care Foundation to help single mothers and their children find more fulfilling, empowered, and independent lives, adding immeasurably to those touched by her deeply caring spirit.
---
You Might also like
All the Best Talks Since 2012

We are so thrilled to announce the launch of the Leading Moms Podcast!

Tune in every other week for all the best talks since 2012.

A platform where every mom has a story, Leading Moms started as an annual one-day event in Vancouver, BC, with an aim for each mom to recognize her significance and belonging, gain a sense of mastery and be impactful in her business, community – or the simple everyday of her family.

Now these thought-provoking, inspirational talks are available on this podcast. Join your host Christine Pilkington, entrepreneur, publisher and TV mom expert, every other week as she shares the best talks from the past six years.

You can subscribe to the Leading Moms Podcast on Apple Podcasts and YouTube. Use another podcast service? You can also add our podcast feed to any podcast player.

---

A teacher, writer and master storyteller, Comfort uses her artistic talents to enrich the community with her interactive stories through drama, song, poetry, and story-telling in English and French. She has told stories and conducted workshops in hundreds of Canadian schools and community centres. She has written many books; Kokodiko the Dance Monster is her latest work. Comfort has received many awards as a teacher, performing artist and community worker both in Nigeria and Canada. She uses her artistic talents to discourage discrimination and bullying in schools and to share her African heritage. The Canadian community has benefited immensely from her contribution to education through the Arts.

---

Mi-Jung Lee is an award winning reporter and anchor for CTV News Vancouver.