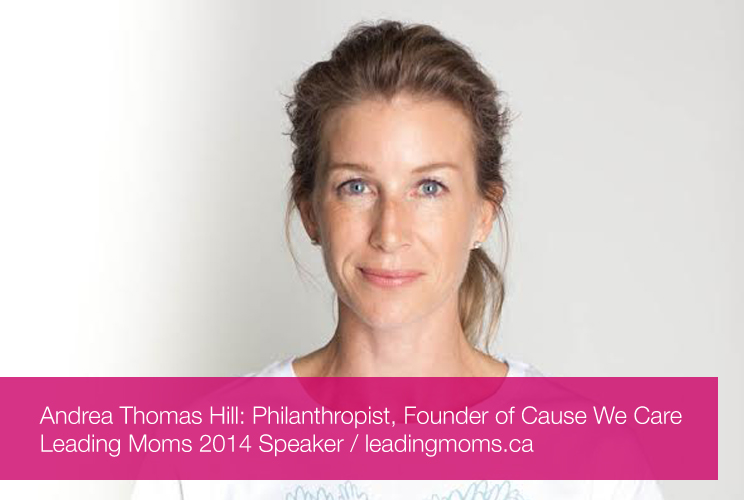 ---
Andrea Thomas Hill is driven by a strong sense of philanthropy and community service. In 1992, she founded Run for the Cure in Canada, and suddenly, families, friend and communities were running together for someone they loved. The event grew to become a vital part of our country's landscape and raised millions of dollars in breast cancer research funds.
In 2007, Andrea's inspiration drove her to support families affected by poverty. She founded Vancouver's Cause We Care Foundation to help single mothers and their children find more fulfilling, empowered, and independent lives, adding immeasurably to those touched by her deeply caring spirit.
---
You Might also like
Gender imbalance and racism have been a driving force in Lotte Davis's life ever since she grew up in Africa in the 50's. Now she's building schools in Africa and providing scholarships for girls in an effort to create change. Learn how one woman can start a multiplier effect that will ultimately impact tens of thousands of people.

Lotte Davis is the Co-Founder of AG Hair, the only manufacturer of professional hair care products in Canada, with distribution in over 15,000 salons and beauty stores across North America, Australia, Central America, South America and Taiwan.In addition to building her company into a well-renowned and respected beauty brand, Davis has worked tirelessly to demonstrate that AG Hair cares. Having grown up in the dawn of the apartheid movement in South Africa, she was acutely aware of the legacy of mistreatment and lack of opportunities for women in particular.

In 2008, she began building schools for girls in some of the poorest regions in Africa with funding from AG Hair promotions and AG's salon partners. In 2013, she developed her own NGO called One Girl Can expanding the scope of the work she does in Africa to include scholarships for girls to secondary and post secondary schools.

She continues to build infrastructure at these schools to create more dynamic learning environments, and now mentors and coaches thousands of girls each year to help them realize their potential through goal setting and confidence building. Since 2008, Lotte has raised more than $3.4 million, is building her sixth school in Africa, and provides scholarships for over 235 girls in university and secondary school.

Lotte is the 2016 winner of the YWCA Women of Distinction award for Entrepreneurship and Innovation.

Twitter: @lottedavis

Instagram: @OneGirlCan

---

A teacher, writer and master storyteller, Comfort uses her artistic talents to enrich the community with her interactive stories through drama, song, poetry, and story-telling in English and French. She has told stories and conducted workshops in hundreds of Canadian schools and community centres. She has written many books; Kokodiko the Dance Monster is her latest work. Comfort has received many awards as a teacher, performing artist and community worker both in Nigeria and Canada. She uses her artistic talents to discourage discrimination and bullying in schools and to share her African heritage. The Canadian community has benefited immensely from her contribution to education through the Arts.

---


This year, we are introducing the Leading Mom award, hosted by Vancouvermom.ca. We are looking for those everyday, behind-the-scenes moms who are making a difference on a local, national or international level and who have demonstrated exemplary leadership in one of the following categories:

Education
Business
Arts, Culture and Media
Science and Technology
Social and Environmental Good
Health and Wellness
Sports and Athletics

To qualify, your leading mom must be a mother – of any age – who lives in Metro Vancouver and is able to attend the Leading Moms event on September 26, 2014. She must also have demonstrated leadership in one of the above categories and her accomplishment must be uniquely influenced by her role as a mother.

The Grand Prize

The recipient of the Leading Mom Award will receive:

Two nights accommodation for two with breakfast each morning at premier resort, Painted Boat Resort Spa Marina, located on the beautiful Sunshine Coast, British Columbia. This luxurious five acre waterfront resort, just two hours from Vancouver, features 31 spacious two-bedroom villas, fitness facility, full appointed spa, infinity pool and hot tub that overlooks the ocean.

We Have A Winner!


Congratulations to Wendy Armbruster Bell!

Inspired by her own experiences as a mom (to Antonia, nine, and Michaela, seven) Wendy Armbruster Bell founded Snugabell Mom and Baby Gear with a mission "to support the beauty of breastfeeding". The mamas she has encountered since launching Snugabell (especially those pumping for preemies and multiples) inspired her to createPump Across America, a touching video montage celebrating real moms from every state across the USA. The release of the video coincided with the launch of theSnugabell "Milk Money" grant program, which provides monthly cash grants to local breastfeeding advocacy groups. Also coming down the pipeline is a project supporting moms with babies in the NICU.

Our Sponsor

Our warmest thanks to Painted Boat Resort Spa Marina for sponsoring the Leading Mom Award.