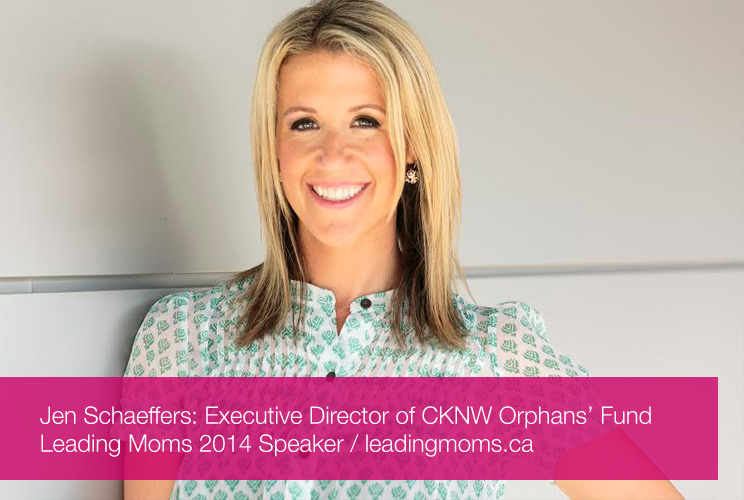 ---
Jen Schaeffers is the Executive Director, CKNW Orphans' Fund and Founder, NetworkinginVan.com. With over 12 years experience in sports marketing, including roles with Intrawest and the Vancouver Canucks, Jen left the corporate world in 2011 to pursue philanthropy full time.
Organizations she has been involved with, both past and present include: Women Leaders in Non-Profit, Women's Leadership Circle, The Minerva Foundation for BC Women and Ronald McDonald House BC.
In 2014, Jen was recognized as a finalist in the community building category for the YWCA Women of Distinction Awards and awarded the TELUS 'Women of Promise' Award. She is a mentor and frequent public speaker on topics such as networking, non-profit and leadership.
Follow her on twitter @jenu2.
You Might also like
Thank you for your interest in being a Leading Moms blog ambassador! It's going to be a great event! The 2015 Blog Ambassador program is sponsored by SpringFree Trampoline.
What's in it for you:

Media ticket to our event (valued at $65)
Reserved seating at the event
Complimentary childcare at any Kids & Company location, ideal for kids 18 months to five years of age. Infants may stay with their mothers during the event.
Breakfast and lunch at Craft Beer Company (Valued at $25)
Acknowledgment our Media sponsor page and social media
Promo code for your network ("lmfriends" gives your followers 15% off the regular ticket price)
Your blog post posted on our Facebook page and Twitter pages.

What we expect in return:

Your virtual attendance and promotion at the Leading Moms Twitter party (September 15th at 8 pm)
One article about the event published on your blog. Of course if you'd like to do more, feel free! Please email harriet.fancott@crispmedia.ca your link when it's up so we can post it on our website and social media.
Regular tweeting using hashtag #LMinspire leading up to and during the event. Please see the social media promo guide for suggested tweets and Facebook posts
Inclusion of our logo, speaker photos or 2015 promo video.
Your attendance at the breakfast and lunch.
Reference to SpringFree Trampoline as the Blog Ambassador sponsor, whenever possible, linking to this page and displaying this logo:

---

To Register For the Event

Go to our Register page and use promo code "LMmedia" at checkout. Note: this promo code is just for you, not your followers. You will find childcare registration details at checkout.

---

Images & Videos

Feel free to use any of the speaker images on our website or post this 2014 video on your blog or website. Please link to http://leadingmoms2015.eventbrite.ca or http://leadingmoms.ca

Logo

Promo Video


Interested in a morning of inspiration, connection, tears and laughter? Take some time out for you, for your head and for your heart! Join us at the 2015 Leading Moms event on September 25th. For tickets and info, go to: http://leadingmoms.ca

---

Promo Code

Use promo code "lmfriends" to give 15% off regular price tickets to your readers. Note: Early Bird tickets are a cheaper option while they are available.

---

For Your Article

Please read our Press Release.

Some key messages:

Leading Moms is a one-day event featuring inspiring talks from extraordinary moms. Our speaker line-up includes key influencers in media, arts, health, social change and more. In a mix of performance, video and live talks, our roster of moms will deliver personal talks straight from their heart.

Ticket holders can register for complimentary childcare, courtesy of Kids and Company, at any of their Lower Mainland locations.

This year's event boasts a fantastic speaker line-up, including award-winning CTV investigative, reporter, anchor and breast cancer survivor Mi-Jung Lee, Transalliance  activist Morgane Oger and super poet Samantha Reynolds. The event won't disappoint.

If you have any questions please don't hesitate to email Harriet at harriet.fancott@crispmedia.ca


2014 Blog Ambassadors

Blogger and Media Mentions

Thanks to Kidoodle.TV, for sponsoring the Blog Ambassador program!

All the Best Talks Since 2012

We are so thrilled to announce the launch of the Leading Moms Podcast!

Tune in every other week for all the best talks since 2012.

A platform where every mom has a story, Leading Moms started as an annual one-day event in Vancouver, BC, with an aim for each mom to recognize her significance and belonging, gain a sense of mastery and be impactful in her business, community – or the simple everyday of her family.

Now these thought-provoking, inspirational talks are available on this podcast. Join your host Christine Pilkington, entrepreneur, publisher and TV mom expert, every other week as she shares the best talks from the past six years.

You can subscribe to the Leading Moms Podcast on Apple Podcasts and YouTube. Use another podcast service? You can also add our podcast feed to any podcast player.