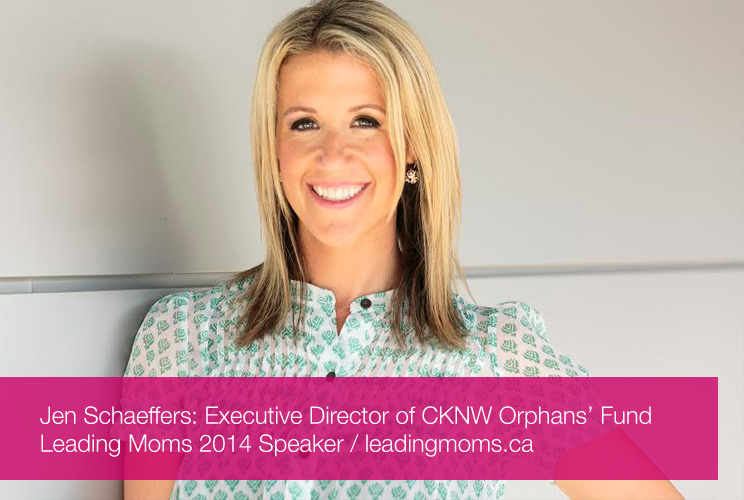 ---
Jen Schaeffers is the Executive Director, CKNW Orphans' Fund and Founder, NetworkinginVan.com. With over 12 years experience in sports marketing, including roles with Intrawest and the Vancouver Canucks, Jen left the corporate world in 2011 to pursue philanthropy full time.
Organizations she has been involved with, both past and present include: Women Leaders in Non-Profit, Women's Leadership Circle, The Minerva Foundation for BC Women and Ronald McDonald House BC.
In 2014, Jen was recognized as a finalist in the community building category for the YWCA Women of Distinction Awards and awarded the TELUS 'Women of Promise' Award. She is a mentor and frequent public speaker on topics such as networking, non-profit and leadership.
Follow her on twitter @jenu2.
You Might also like
---

As a veteran broadcaster, a third generation Vancouverite and busy working mother, Tamara comes to the anchor chair with a lot of experience, passion and a deep understanding of what matters to Metro Vancouver residents. In the field, Tamara reports on a range of important issues, from women with HIV to rare diseases affecting children.

Tamara's commitment to our community goes beyond her work on the air.
She's proud to be the Chair of the BC Women's Hospital "Hope Starts Here" campaign, helping to raise $17 million dollars for a new Newborn Intensive Care Unit at BC Women's Hospital. She also sits on the boards at The Kettle Friendship Society, the Pacific Parkland Foundation and The Children's Wish Foundation of Canada. Tamara is also a big supporter of the Developmental Disabilities Association and the BC Centre for Ability. Tamara is a founding board member of the Rare Disease Foundation.

---

SELF CARE: Putting Yourself First

One thing we hear from moms all the time is that they often come last – after kids, spouses, work, family – it's hard to find time to take care of yourself. But we also know that when moms focus on self-care everyone wins.

The evening will focus on topics like:

The Truth About Gender Equity in Healthcare
Better Sex Through Mindfulness
Making Your Personal Fitness Goals a Priority
Lessening your Mental Load

And more….

Leading Moms is a place where stories are told, experiences are shared and inspiration is felt by everyone in the room. We hope to see you there.

All the Best Talks Since 2012

We are so thrilled to announce the launch of the Leading Moms Podcast!

Tune in every other week for all the best talks since 2012.

A platform where every mom has a story, Leading Moms started as an annual one-day event in Vancouver, BC, with an aim for each mom to recognize her significance and belonging, gain a sense of mastery and be impactful in her business, community – or the simple everyday of her family.

Now these thought-provoking, inspirational talks are available on this podcast. Join your host Christine Pilkington, entrepreneur, publisher and TV mom expert, every other week as she shares the best talks from the past six years.

You can subscribe to the Leading Moms Podcast on Apple Podcasts and YouTube. Use another podcast service? You can also add our podcast feed to any podcast player.