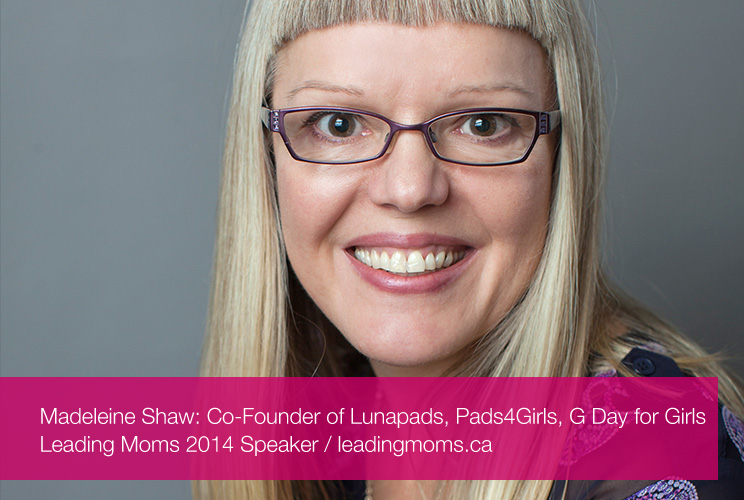 ---
Madeleine Shaw is a social entrepreneur known for her longstanding commitment to green products, progressive business practices and women entrepreneurs. She is the co-founder of Lunapads.com, a for-profit venture that manufactures and markets an online collection of healthy and eco-friendly products for girls and women to support them throughout their life cycle.
Thanks to Lunapads, over 1 million pads and tampons are being diverted from landfills every month. She is also the co-founder of Pads4Girls, a social change project that provides sustainable hygiene supplies to girls in developing nations and G Day for Girls, a global social movement to celebrate and empower adolescent girls.
---
You Might also like
---

Taryn Brumfitt is the Founder of Body Image Movement, a global movement which teaches women to love their bodies. "My role is to harness and facilitate positive body image activism, I'd like to think of myself as a loveable activist!".

Taryn's mission is to harness and facilitate positive body image activism by leading a global movement that creates a shift in the way women think about themselves and their bodies.

In 2014 Taryn launched a Kickstarter campaign for "Embrace", a documentary on her body image story. The trailer has been seen by over 8 Million people, raised over $330,000 and was backed by Rosie O'Donnell, Ashton Kutcher, Perez Hilton and over 10,000 people across the world.

---

 

SELF CARE: Putting Yourself First

One thing we hear from moms all the time is that they often come last – after kids, spouses, work, family – it's hard to find time to take care of yourself. But we also know that when moms focus on self-care everyone wins.

The evening will focus on topics like:

The Truth About Gender Equity in Healthcare
Better Sex Through Mindfulness
Making Your Personal Fitness Goals a Priority
Lessening your Mental Load

And more….

Leading Moms is a place where stories are told, experiences are shared and inspiration is felt by everyone in the room. We hope to see you there.

All the Best Talks Since 2012

We are so thrilled to announce the launch of the Leading Moms Podcast!

Tune in every other week for all the best talks since 2012.

A platform where every mom has a story, Leading Moms started as an annual one-day event in Vancouver, BC, with an aim for each mom to recognize her significance and belonging, gain a sense of mastery and be impactful in her business, community – or the simple everyday of her family.

Now these thought-provoking, inspirational talks are available on this podcast. Join your host Christine Pilkington, entrepreneur, publisher and TV mom expert, every other week as she shares the best talks from the past six years.

You can subscribe to the Leading Moms Podcast on Apple Podcasts and YouTube. Use another podcast service? You can also add our podcast feed to any podcast player.