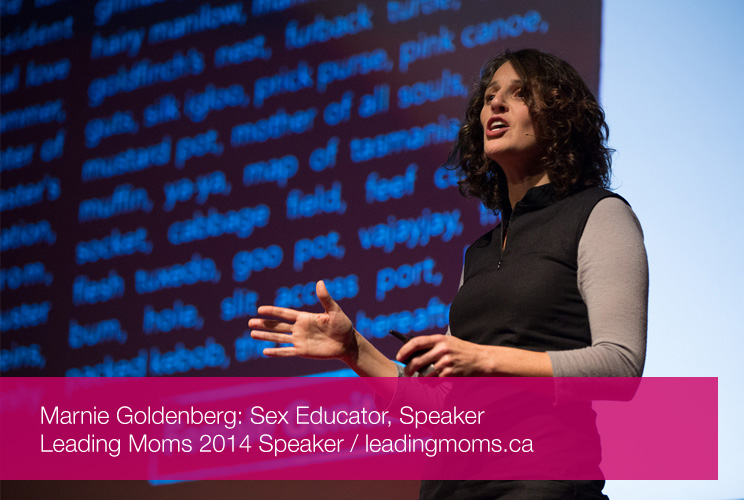 ---
Marnie Goldenberg is the Sexplainer.   A circuitous path including leading canoe trips with at-risk youth, legal training, counselling for Planned Parenthood, senior leadership roles in the voluntary sector and, of course, parenting, brings her to today.  Marnie thinks sexuality is predominantly a force of good in the world and takes every opportunity to engage with parents about how to talk to young people about sex in healthy and happy ways. She launched her blog in March 2013, teaches kids about sex, spoke at a local TEDx, is currently writing a book and helping plan a US-based sex education conference.   www.sexplainer.com
---
You Might also like
Gender imbalance and racism have been a driving force in Lotte Davis's life ever since she grew up in Africa in the 50's. Now she's building schools in Africa and providing scholarships for girls in an effort to create change. Learn how one woman can start a multiplier effect that will ultimately impact tens of thousands of people.

Lotte Davis is the Co-Founder of AG Hair, the only manufacturer of professional hair care products in Canada, with distribution in over 15,000 salons and beauty stores across North America, Australia, Central America, South America and Taiwan.In addition to building her company into a well-renowned and respected beauty brand, Davis has worked tirelessly to demonstrate that AG Hair cares. Having grown up in the dawn of the apartheid movement in South Africa, she was acutely aware of the legacy of mistreatment and lack of opportunities for women in particular.

In 2008, she began building schools for girls in some of the poorest regions in Africa with funding from AG Hair promotions and AG's salon partners. In 2013, she developed her own NGO called One Girl Can expanding the scope of the work she does in Africa to include scholarships for girls to secondary and post secondary schools.

She continues to build infrastructure at these schools to create more dynamic learning environments, and now mentors and coaches thousands of girls each year to help them realize their potential through goal setting and confidence building. Since 2008, Lotte has raised more than $3.4 million, is building her sixth school in Africa, and provides scholarships for over 235 girls in university and secondary school.

Lotte is the 2016 winner of the YWCA Women of Distinction award for Entrepreneurship and Innovation.

Twitter: @lottedavis

Instagram: @OneGirlCan

Thank you for your interest in being a Leading Moms blog ambassador! It's going to be a great event! The 2015 Blog Ambassador program is sponsored by SpringFree Trampoline.
What's in it for you:

Media ticket to our event (valued at $65)
Reserved seating at the event
Complimentary childcare at any Kids & Company location, ideal for kids 18 months to five years of age. Infants may stay with their mothers during the event.
Breakfast and lunch at Craft Beer Company (Valued at $25)
Acknowledgment our Media sponsor page and social media
Promo code for your network ("lmfriends" gives your followers 15% off the regular ticket price)
Your blog post posted on our Facebook page and Twitter pages.

What we expect in return:

Your virtual attendance and promotion at the Leading Moms Twitter party (September 15th at 8 pm)
One article about the event published on your blog. Of course if you'd like to do more, feel free! Please email harriet.fancott@crispmedia.ca your link when it's up so we can post it on our website and social media.
Regular tweeting using hashtag #LMinspire leading up to and during the event. Please see the social media promo guide for suggested tweets and Facebook posts
Inclusion of our logo, speaker photos or 2015 promo video.
Your attendance at the breakfast and lunch.
Reference to SpringFree Trampoline as the Blog Ambassador sponsor, whenever possible, linking to this page and displaying this logo:

---

To Register For the Event

Go to our Register page and use promo code "LMmedia" at checkout. Note: this promo code is just for you, not your followers. You will find childcare registration details at checkout.

---

Images & Videos

Feel free to use any of the speaker images on our website or post this 2014 video on your blog or website. Please link to http://leadingmoms2015.eventbrite.ca or http://leadingmoms.ca

Logo

Promo Video


Interested in a morning of inspiration, connection, tears and laughter? Take some time out for you, for your head and for your heart! Join us at the 2015 Leading Moms event on September 25th. For tickets and info, go to: http://leadingmoms.ca

---

Promo Code

Use promo code "lmfriends" to give 15% off regular price tickets to your readers. Note: Early Bird tickets are a cheaper option while they are available.

---

For Your Article

Please read our Press Release.

Some key messages:

Leading Moms is a one-day event featuring inspiring talks from extraordinary moms. Our speaker line-up includes key influencers in media, arts, health, social change and more. In a mix of performance, video and live talks, our roster of moms will deliver personal talks straight from their heart.

Ticket holders can register for complimentary childcare, courtesy of Kids and Company, at any of their Lower Mainland locations.

This year's event boasts a fantastic speaker line-up, including award-winning CTV investigative, reporter, anchor and breast cancer survivor Mi-Jung Lee, Transalliance  activist Morgane Oger and super poet Samantha Reynolds. The event won't disappoint.

If you have any questions please don't hesitate to email Harriet at harriet.fancott@crispmedia.ca


Andrea Thomas Hill is driven by a strong sense of philanthropy and community service. In 1992, she founded Run for the Cure in Canada, and suddenly, families, friend and communities were running together for someone they loved. The event grew to become a vital part of our country's landscape and raised millions of dollars in breast cancer research funds.