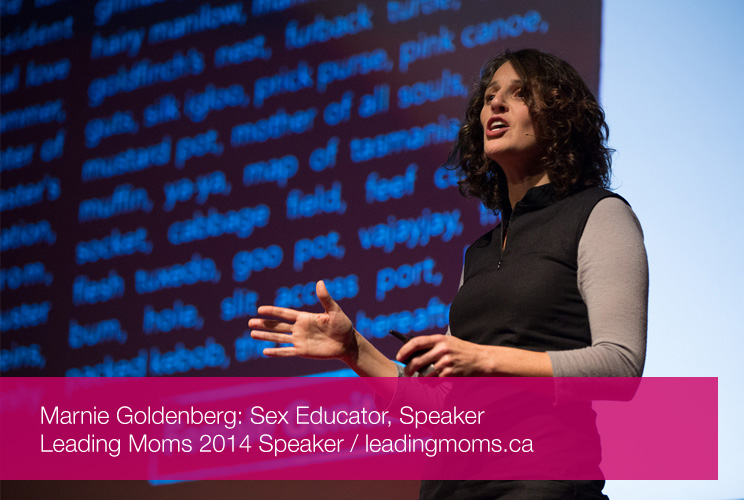 ---
Marnie Goldenberg is the Sexplainer.   A circuitous path including leading canoe trips with at-risk youth, legal training, counselling for Planned Parenthood, senior leadership roles in the voluntary sector and, of course, parenting, brings her to today.  Marnie thinks sexuality is predominantly a force of good in the world and takes every opportunity to engage with parents about how to talk to young people about sex in healthy and happy ways. She launched her blog in March 2013, teaches kids about sex, spoke at a local TEDx, is currently writing a book and helping plan a US-based sex education conference.   www.sexplainer.com
---
You Might also like
---

Jen Schaeffers is the Executive Director, CKNW Orphans' Fund and Founder, NetworkinginVan.com. With over 12 years experience in sports marketing, including roles with Intrawest and the Vancouver Canucks, Jen left the corporate world in 2011 to pursue philanthropy full time.

Organizations she has been involved with, both past and present include: Women Leaders in Non-Profit, Women's Leadership Circle, The Minerva Foundation for BC Women and Ronald McDonald House BC.

In 2014, Jen was recognized as a finalist in the community building category for the YWCA Women of Distinction Awards and awarded the TELUS 'Women of Promise' Award. She is a mentor and frequent public speaker on topics such as networking, non-profit and leadership.

Follow her on twitter @jenu2.


This year, we are introducing the Leading Mom award, hosted by Vancouvermom.ca. We are looking for those everyday, behind-the-scenes moms who are making a difference on a local, national or international level and who have demonstrated exemplary leadership in one of the following categories:

Education
Business
Arts, Culture and Media
Science and Technology
Social and Environmental Good
Health and Wellness
Sports and Athletics

To qualify, your leading mom must be a mother – of any age – who lives in Metro Vancouver and is able to attend the Leading Moms event on September 26, 2014. She must also have demonstrated leadership in one of the above categories and her accomplishment must be uniquely influenced by her role as a mother.

The Grand Prize

The recipient of the Leading Mom Award will receive:

Two nights accommodation for two with breakfast each morning at premier resort, Painted Boat Resort Spa Marina, located on the beautiful Sunshine Coast, British Columbia. This luxurious five acre waterfront resort, just two hours from Vancouver, features 31 spacious two-bedroom villas, fitness facility, full appointed spa, infinity pool and hot tub that overlooks the ocean.

We Have A Winner!


Congratulations to Wendy Armbruster Bell!

Inspired by her own experiences as a mom (to Antonia, nine, and Michaela, seven) Wendy Armbruster Bell founded Snugabell Mom and Baby Gear with a mission "to support the beauty of breastfeeding". The mamas she has encountered since launching Snugabell (especially those pumping for preemies and multiples) inspired her to createPump Across America, a touching video montage celebrating real moms from every state across the USA. The release of the video coincided with the launch of theSnugabell "Milk Money" grant program, which provides monthly cash grants to local breastfeeding advocacy groups. Also coming down the pipeline is a project supporting moms with babies in the NICU.

Our Sponsor

Our warmest thanks to Painted Boat Resort Spa Marina for sponsoring the Leading Mom Award.

---

Louise Green is a globally recognized voice at the forefront of the body advocacy movement. Louise is a certified fitness professional as well as a successful plus size athlete. She empowers athletes of all shapes and sizes in a culture that generally dominates one ideal.

Green, is not only the founder of Body Exchange (with 6 locations in Canada) but also a writer, host of international wellness retreats and an advocate with a comprehensive continental reach.

Green's unflinching and unapologetic questioning of the way we view plus-size athleticism is also the catalyst for her groundbreaking book, "Limitless" which will be launched in 2015.

Green has been published internationally on platforms such as The New York Times, UK's Daily Mail, Huffington Post and XOJane. She has also pitched her business concept on CBC's Dragon's Den and was a highly heralded speaker at the first annual Body Love Conference in Tucson, Arizona.

Green ignites the change we wish to see.